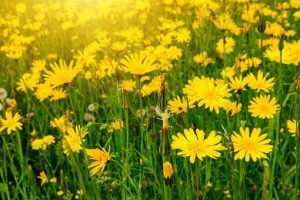 't Verhaol van dees waek is weer van Wilma Dingelstad, in Echs hertaaldj door Ton van Wegberg en ingespraoke door Marjo Jaski-Verheesen. Wilma veultj zich zien laeve lank al erg betrokke bie de natuur, speciaal van oos ómgaeving en nog specialer van de Daort. In dit verhaol aevel geitj 't óm 'n veldjbloom, die m'n de lèste jaore neet mieë zoa väöl zuutj… of toch?
Waat is 't jaomer det väöl luuj, die ouch van dees verhaole zoewe kènne genete, det nog neet doon. Es g'r emes kèntj wovan g'r dènktj det hae of zie 't ouch waal sjoan vènje óm nao oos verhaole te loestere, wies die d'r den èns op en help eventueel wie oppe website te kómme. Moeilik is 't neet, mer m'n mót 't 'ne kieër gedaon höbbe.
Ouch noe de tied van mieë bönne zitte v'rbie liektj te zeen, is 't óntspanne loestere nao 'n kort verhaol aan te bevaele. Det kan door op de balk ónger dees inleiding 't drieheukske aan te klikke. Väöl loesterplezeer!
Wiltj g'r laote wete wie g'r 't gevónje höbtj of höb g'r mesjien zelf 'n gesjiktj verhaol, laot ós det den wete mit 'ne email aan info@veldekekrinkech.nl.
"Mien goudsbleumke" (väörgelaeze door Marjo Jaski-Verheesen)