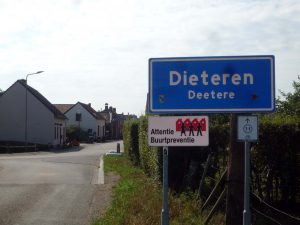 't Verhaol waat Marjo Jaski-Verheesen uch noe väörleusj, kömtj oet 't beukske "Nostalgeintjes" van Jo Dullens. In det book kiktj hae mit 'ne glimlach trök nao 't Deetere van vieftig of mieë jaor geleje. De verhaole in 't book zeen gesjreve in 't Nederlands. Ton van Wegberg, van Veldeke Krink Ech haetj 'n paar d'r van ómgezatj in 't dialect.
Weer haope det 't loestere nao dit verhaol weer 'n bietje zal mithelpe óm de tied van get mieë thoes zitte op 'n gooj meneer door te kómme. Natuurlik haope w'r det g'r dao plezeer aan belaeftj. Det zoewe w'r den ouch gaer èns van uch huuere. Ouch es d'r aanwiezinge zeen of zelfs kritiek. Gebroektj daoväör 't óngerstaondj emailadres.
Óm nag 'ne tied te kènne doorgaon höbbe w'r verhaole nuuedig. Zótj g'r ouch 'n verhaol höbbe waat angere zoe kènne interessere, stuur 't den nao info@veldekekrinkech.nl.
Dit verhaol is weer te beloestere door op de balk ónger dees inleiding 't drieheukske aan te klikke. Väöl loesterplezeer!
"Zoamer… 'ne daag in Deetere" (väörgelaeze door Marjo Jaski-Verheesen)