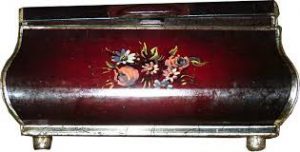 Dit verhaol kömtj weer oet 't book "Kiek kènjer, zoa woor het vreuger", det door Netje Heythuysen-van Leuven in 1990 is oetgegaeve. Piet Aben haet dao-oet 'n paar verhäölkes samegevatj en ze ómgezatj in 't Echs. En get aangevöldj, want van de vastelaovendj wètj hae ouch waal 't ein en anger. Marjo Jaski-Verheesen haet 't verhaol weer ingespraoke.
't Verhaole Project kan nog lang doorgaon es w'r regelmaotig nuuj verhaole bönne kriege. Daoróm hie nóg èns 'ne oproep: Aarzelt neet es g'r ouch 'n gesjiktj verhaol höbtj gesjreve of wètj det emes anges det haet gedaon. Get insture of ós tippe kan mit 'n berichske aan info@veldekekrinkech.nl.
W'r haope det 't verhaol van dees waek väör de get jónger loesterieërs informatief is en väör de aojere sjoan herinneringe witj op te rope.
Vèntj geer de "Loesterverhaole" sjoan, den kèntj g'r det ouch laote wete via info@veldekekrinkech.nl.
"Vaste en vastelaovendj" (väörgelaeze door Marjo Jaski-Verheesen)