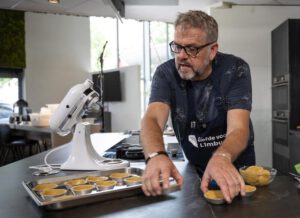 Det Henk Hover gaer baktj, det wisj g'r w'rsjienlik al waal van zien L1-programma. In 't loesterverhaol welk noe in 't Verhaoleproject op oos site is geplaatsj, vertèltj hae dao zelf get äöver.
Zoalang w'r nog verhaole höbbe of bönne kómme, blif oos streve óm regelmaotig hie 'n nuuj verhaol te laote huuere. Begónne in de coronatied blif 't 'n good systeem óm verhaole vas te ligke en uch de gelaegenheid te beje op tieje wo-op det oetkömtj ze te beloestere. Nuuj verhaole blieve daoróm nog stieëds welkom. Eur verhaol kèntj g'r insture nao info@veldekekrinkech.nl Bie twiefel of 'n verhaol gesjiktj is, of mit anger vraoge kan m'n belle mit 0475 482149.
En verder is 't nog stieëds: op de balk ónger dees inleiding 't drieheukske  aanklikken en de vertèlling begintj. Väöl loesterplezeer!
"Flaai bakke" väörgelaeze door Henk Hover